Main Gate and Freight Wagon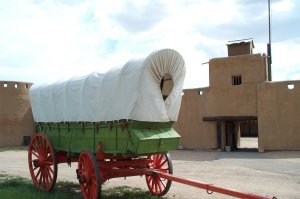 Photo by Steven Butler. Used with permission.
Fort interior, looking east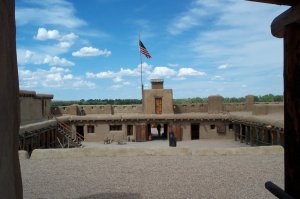 Photo by Steven Butler. Used with permission.
Susan Magoffin's Room


Photo by Steven Butler. Used with permission.
In June 1846, following the outbreak of war between the United States and Mexico, an army under the command of Colonel Stephen Watts Kearny set out on the Santa Fe Trail, departing from Fort Leavenworth in present-day Kansas. Their mission: to capture and occupy New Mexico.
On July 22, an advance party of Kearny's men reached Bent's Fort, which lay on the north bank of the Arkansas River. Built sometime in the mid-1830s by the company of Bent and St. Vrain, it was a fortified trading post that served travelers on the Santa Fe Trail. Within a few days the main body of troops arrived and set up camp in a meadow on the opposite shore. Accompanying the troops was a civilian, James W. Magoffin, who had made his fortune in the Santa Fe trade, and his eighteen-year-old wife Susan, who were quartered inside the walls of Bent's Fort. Susan Magoffin's diary, which is still in print, is an interesting account of the march of Kearny's forces across the prairie into New Mexico.
While here, Kearny received word that he had been promoted to General. It was also here that Kearny issued a proclamation, addressed to the citizens of New Mexico, advising them that he was on his way to Santa Fe with a large force "for the purpose of seeking union with and ameliorating the conditions of its inhabitants." On August 1, he sent a letter to the Mexican governor of New Mexico, Manuel Armijo, calling upon him not to resist. Kearny's "Army of the West" departed Bent's Fort on August 2, 1846. Although Armijo himself issued a proclamation, calling on New Mexicans to resist, the Americans were able to take Santa Fe without firing a shot.
The fort seen here is a reconstruction that was built on the foundations of the original. It is operated by the U. S. National Park Service.
For more information, visit the Bent's Old Fort website.